What Are the Benefits of a Breast Augmentation?
Naturally small breasts, breastfeeding, weight loss, and age are a few reasons women choose to undergo breast augmentation. Through the insertion of saline or silicone implants, your appearance can drastically improve by becoming more symmetrical and full.
Creates a Fuller Appearance
Some women may enjoy the appearance of their naturally small breasts, but others may want to boost their body's curves with the insertion of breast implants. Breast implants can make a woman's bust fuller and more proportional.
Improves Breast Symmetry
Breast asymmetry occurs when one breast has a different size, volume, position, or form. This can be a result of hormonal changes, puberty, or trauma.
Breast augmentation can restore breast symmetry by improving breast fullness and size.
Restores Breast Volume After Breastfeeding
It is common for women to consider breast augmentation after pregnancy or breastfeeding, which may cause their breasts to sag and appear deflated. They may choose breast implants to restore their breast appearance to how it was pre-pregnancy.
You should reconsider the decision to have breast augmentation surgery if you plan to experience future pregnancies.
Planning Your Breast Augmentation
Establishing Your Goals
Choosing to undergo breast augmentation surgery should be for your own reasons. We recommend that women who are considering breast enhancement have a vision for what they want their breasts to look like. Compiling photos of your ideal breast appearance helps determine your goals.
It is important to remember that breast augmentation is not a one-size-fits-all procedure. We will tailor your breast augmentation to your body type and your wants. Dr. Andreasen will help guide you through the decision process to ensure we reach your aesthetic goals.
Discussing With Your Surgeon
Dr. Andreasen is a leading breast expert in the Inland Empire, performing over 400 breast procedures each year. He understands the emotional and physical needs that his breast augmentation patients have, and he knows the best solutions to meet those needs.
During your consultation, Dr. Andreasen evaluates your body type, medical history, and goals. He balances these factors and will recommend the best option for your procedure. Implant simulators may be used to help you determine the ideal implant size.
Understanding Your Desires
Implants may be the only technique you need to achieve your ideal breast look. However, if you have been pregnant, undergone recent weight loss, or have age-related laxity, then you may need to consider a breast lift with your augmentation.
If you have lost breast volume and also experience sagging, implants alone will not give you the quality, long-lasting results you deserve. Dr. Andreasen will make his breast lift recommendation during your consultation after a detailed physical examination.

"Thank you so much for all your help in making this very important decision. Your staff was very welcoming and so sweet. Your honesty is very refreshing and I look forward to soon scheduling my surgery!"
"I have had a few people tell me to check out other doctors with cheaper costs but am not interested at all. I am very insecure when it comes to certain parts of my body and i felt very comfortable and sure that I wanted you to do this surgery."
"I had gone too 2 diffrent locations , this place made me automatically made my mind up I had two recommendations from this place and I love the work they did on them , staff is very nice as well as the surgeon I love this place very pleased with my procedure."
Individual results may vary
How Should I Prepare for My Breast Augmentation?
To prepare for your breast augmentation surgery, you should:
Stop smoking
Avoid taking anti-inflammatory drugs
Plan time off work
Gather previous medical records
Which Breast Implant Is Right for Me?
Saline Implants – A saline implant is an elastomer silicone shell filled with a sterile saltwater solution. These implants are FDA approved for women 18 years or older.

Saline implants are considered the safest option because the body can easily absorb the solution filler in the event of a rupture.
Expandable saline implants can be adjusted during surgery for customized sizing.
They are available in both smooth and textured options.
Saline implants are more prone to visible ripples and may feel less natural when compared to silicone options.

Silicone Implants – A silicone implant is a silicone shell that is comprised of a form-stable cohesive gel. Implants are FDA approved for women 22 years or older.

It better simulates the natural look and feel of breast tissue, which is why it is commonly preferred implant option.
They may benefit women with thinner breast tissue better because it has softer implant edges.
The implants are available in both smooth and textured options.
Since silicone implants are prefilled, your incision options may be larger.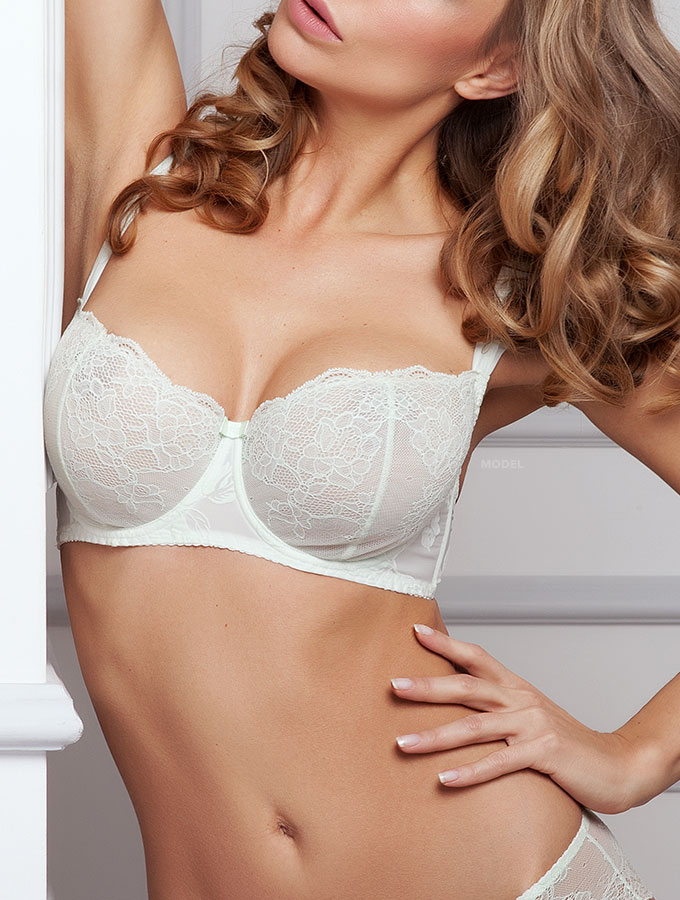 Are Breast Implants Safe?
Silicone and saline implants are FDA approved for cosmetic use. Although they are safe, breast implants may cause complications over time.
Breast implants are not designed to last forever. It is important to stay aware of your breast implants as they age.
Patients should have routine check-ups with your plastic surgeon to ensure there are no serious complications with your breast implants.
Can Breast Implants Cause Cancer?
The FDA has reported an association between a specific brand of textured breast implants and the development of breast implant-associated anaplastic large cell lymphoma (BIA-ALCL), which is a type of non-Hodgkin's lymphoma that can develop in the fluid or scar tissue surrounding the implant.
Some common symptoms of BIA-ALCL are persistent swelling and a large bump in the area of the implant. This cancer may develop after the incision has fully healed or years after the procedure, according to the FDA.
It is a good idea to learn about the device manufacturer and implant type. Although this is a rare condition, it is important to be aware of this condition before undergoing breast augmentation.
Dr. Andreasen will help answer any questions or concerns you may have regarding the potential risks of BIA-ALCL. You can also view an FDA recommendation on things to consider before getting breast implants.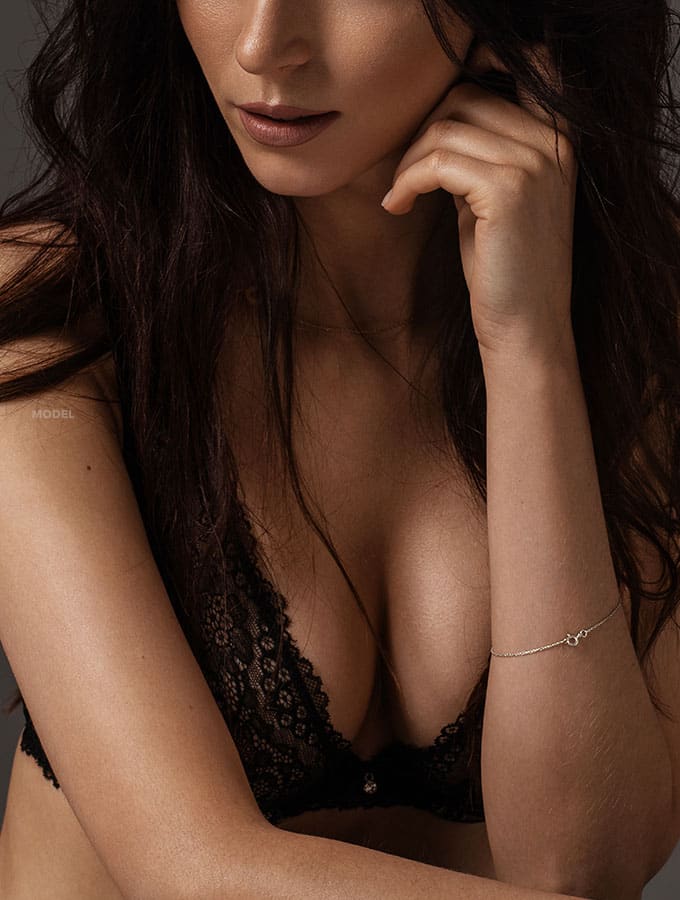 Where Will My Breast Incisions Be?
Dr. Andreasen's incision options are performed to leave inconspicuous scars. The type of implant you choose for your procedure will impact which incision is best for you.
If a breast implant exchange is needed, Dr. Andreasen will make the incision in the same spot as the breast augmentation incision to minimize scarring.
Common breast augmentation incision options include:
Periareolar – An incision is created around the areola
Inframammary – An incision is placed along the lower breast crease
Transaxillary – An incision made within the underarm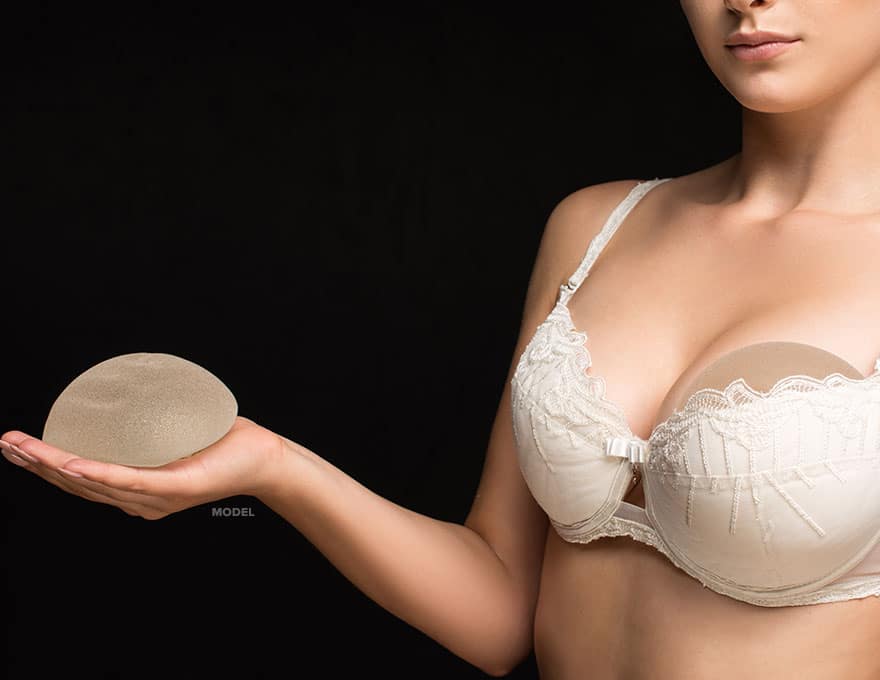 Where Are My Breast Implants Placed?
The placement of your implants can impact the overall shape and positioning of your breasts. Implant placement can significantly impact the look of your breasts, depending on the thickness of your breast tissue.
Subglandular – The implants are placed under the glandular tissue of the breasts but over the pectoral muscle. This prevents distortion of the implant during muscle contraction.
Submuscular – The implants are placed under both the glandular tissue and the pectoral muscles. This placement creates a more natural breast slope, and it helps to mask implant edges in women with thinner breast tissue.
Partial submuscular – Implants are placed underneath the breast tissue and partially under the pectoral and chest muscles.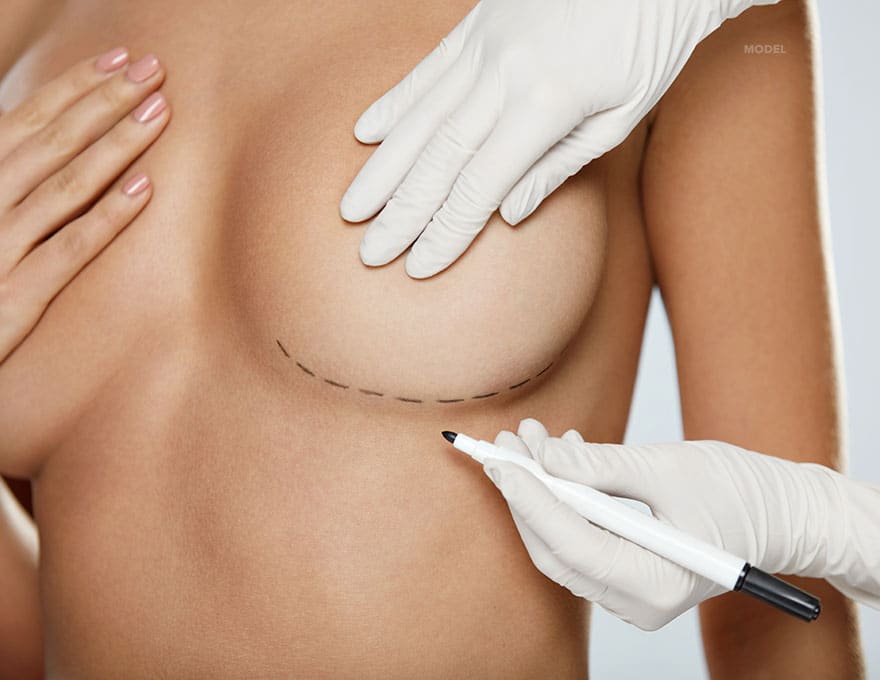 Which Breast Implant Size Is Right for Me?
The best implant size for you is determined based on your frame and aesthetic desires. Smaller implants can make a dramatic difference if you have a more petite frame, whereas larger implants may be necessary to achieve your ideal shape if you have a wider bustline. The size of your implants will affect the final size of your breast, but it is only one factor in the overall appearance of your breasts.
What Are Your Concerns?
What Can I Expect for My Breast Augmentation Recovery?
You will experience bruising and swelling after your surgery. A special support bra is worn throughout your recovery, and you will be required to rest for several days following your procedure.
Most patients can return to work after two weeks and resume their regular exercise routine after one month. Your breasts may still feel tender around this time, but excess swelling should subside after six weeks.
Will I Scar After My Breast Augmentation?
The visibility of your breast augmentation scars will depend on incision placement and your body's natural healing ability. Any scarring that develops can easily be concealed by clothing and natural skin folds.
Dr. Andreasen uses incision techniques to help minimize scar development. Most scarring is inconspicuous, or it will fade over time.
Will I Experience Pain During My Breast Augmentation Recovery?
General anesthesia is used during your surgery to ensure patient safety and comfort. You may feel discomfort following your procedure as your body acclimates to the new pressure of your implants. Oral pain medication is prescribed to help control postoperative discomfort.
When Will I See My Breast Augmentation Results?
You will notice the increased breast size immediately after the surgery, but the full results may not become noticeable until the swelling subsides, which can take a few weeks.
You should adhere to Dr. Andreasen's post-operative instructions following breast augmentation to make sure your healing process is smooth. Our team is here to help with any questions you may have during the recovery process.
How Much Does Breast Augmentation Cost?
Breast augmentation is a nuanced and intricate plastic surgery procedure that involves many steps and individualized specifications. Since the final cost of your breast augmentation will reflect this personalization, it is difficult to estimate the price of your breast augmentation until you meet with Dr. Andreasen for your consultation, where your needs can be better established.
The American Society of Plastic Surgeons (ASPS) lists the average cost of breast augmentation as $3,824; however, this is only the national average of surgeon's fees. This amount does not include external charges such as breast implant selection, facility fees, anesthesia fees, and Southern California prices. Therefore, you can expect that your final cost of breast augmentation will be significantly higher than this cost estimate.
Dr. Andreasen will provide a detailed quote during your consultation.
Financing options are available.
Frequently Asked Questions
Who is a good candidate for breast augmentation?

You may be the right candidate for breast augmentation if you:

Are in good general health
Have realistic expectations about your results
Are at an ideal weight
Have underdeveloped breasts
Have poorly proportioned breasts
Have an asymmetrical breast appearance

Do breast implants impact your ability to breastfeed?

Certain breast implant placement techniques may affect your ability to breastfeed in the future.

It is important to discuss these concerns with Dr. Andreasen during your consultation.

Does breast augmentation cause you to lose sensation in your nipples?

While you may experience some initial loss of nipple sensitivity, this is usually not permanent. Most patients do not experience any long-lasting changes in sensation.

What are the complications associated with breast augmentation surgery?

As with any surgery, bleeding and infection are the most common risks.

While rare, other complications can include:

Implant rupture
Implant leaks
Capsular contracture
Bottoming out
Issues associated with tissue laxity

What is implant rupture?

Implant rupture is a complication that occurs when the outer shell of the implant weakens and tears, causing discomfort and a deflated breast appearance.

You can read more about what to do if your implants rupture in our blog post here.

Should I stop smoking before my breast augmentation surgery?

Yes, you should stop smoking before your breast augmentation surgery.

Nicotine is a harmful substance that can interfere with blood flow and put you at serious risk during the procedure.

Will breast augmentation naturally lift my breasts?

When can I shower after breast augmentation?

You can shower the day after your breast augmentation surgery as long as you keep the incisions clean and dry.

It is important to keep your incisions clean and dry throughout your breast augmentation recovery to aid in the healing process.
Dr. Andreasen is the premier plastic surgeon in the Inland Empire of SoCal
Troy J. Andreasen, M.D.
3333 Concours St Bldg #3
Ontario CA 91764
Phone: 909-291-4900
Follow Dr. Andreasen on all social networks
Schedule A Consultation
Fill this simple form with any questions or if you want to schedule a consultation