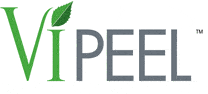 Obsolete peels of the past epitomize the "No Pain – No Gain" approach to skin care. Before the VI Peel, the deeper, more painful, and more downtime the peel – the better the result. VI Peel is the first "Next Generation Aesthetic". It is nearly painless, yet produces dramatic visible results in just days with little downtime.
The VI Peel can be used on any skin type or skin color. It is effective on melasma, acne and acne scars, sun damage, fine lines, and enlarged pores. Following your peel, you will experience skin flaking and peeling beginning around day 3 which may last 1-5 days. This peeling may be disguised by using a moisturizer. Great results will be visible even after just one treatment.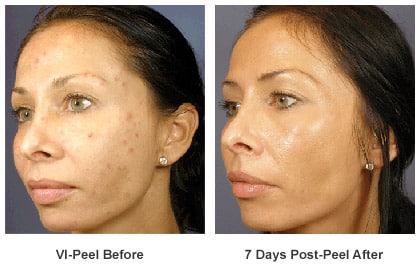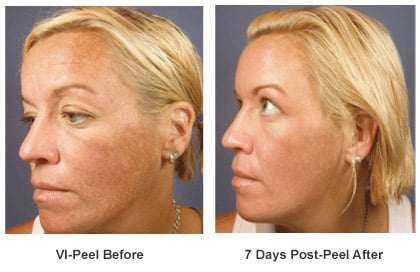 Contact us today for more information. We are located in the Inland Empire and provide services to nearby cities including Riverside and Rancho Cucamonga.

"Thank you so much for all your help in making this very important decision. Your staff was very welcoming and so sweet. Your honesty is very refreshing and I look forward to soon scheduling my surgery!"
"I have had a few people tell me to check out other doctors with cheaper costs but am not interested at all. I am very insecure when it comes to certain parts of my body and i felt very comfortable and sure that I wanted you to do this surgery."
"I had gone too 2 diffrent locations , this place made me automatically made my mind up I had two recommendations from this place and I love the work they did on them , staff is very nice as well as the surgeon I love this place very pleased with my procedure."
Individual results may vary
The Andreasen Experience
Breast and Body Specialist
Contact Us
We are eager to answer any of your questions and help you toward achieving your aesthetic goals.
Dr. Andreasen is the premier plastic surgeon in the Inland Empire of SoCal
Troy J. Andreasen, M.D.
3333 Concours St Bldg #3
Ontario CA 91764
Phone: 909-291-4900
Follow Dr. Andreasen on all social networks