Breast augmentation can help many women achieve their desired breast size through the use of either saline or silicone breast implants. While implants can enhance the appearance of your bust, unfortunately, they are not meant to last forever.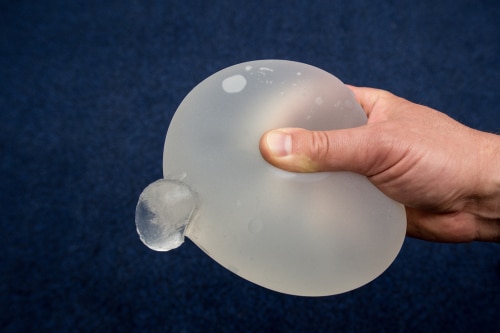 Implant rupture is a common complication that occurs when there is trauma to the outer shell of the implant, causing the inner volumizing solution to fill your breast pocket, as well as causing swelling and discomfort. Fortunately, Dr. Andreasen performs breast implant revision to remove your ruptured implants and restore your breasts to an aesthetically pleasing appearance.
Finding the Leak
Implant failure occurs differently with saline and silicone implants due to their composition. Saline implants are generally filled with saline or sterile saltwater solution. Saline implants tend to deflate quickly, so ruptures fairly easy to identify. Silicone implants that have ruptured are usually less noticeable because the silicone gel may stay within the implant shell for some time. The only reliable way to know if your silicone implants have ruptured is through an MRI (magnetic resonance imaging).
Follow Up With Your Surgeon
There are a few signs and symptoms you should look out for, including:
Change in breast shape and size
Breast pain or discomfort
Hardening of the breasts
Swelling and soreness
If you are experiencing these or any other symptoms, chances are that your implants may have ruptured. Make sure to immediately contact your plastic surgeon to prevent further complications. Following up with your surgeon can also ensure no other complications have occurred after your breast augmentation surgery. If you have silicone breast implants, it is recommended that you get an MRI three years following your breast procedure.
Treating Your Ruptured Implants
Breast implant revision is a surgical procedure that addresses changes in your breasts that have developed as a result of complications like implant rupture or capsular contracture. During your surgery, an incision will be made and the affected implant will be carefully removed from your chest. If capsular contracture has occurred, both the implant and scar tissue will be taken out. You will have the option of replacing your implants with new ones or part ways with them for good.
If you would like to know more about breast implant revision surgery, contact our office at (909) 291-4900 or schedule a consultation online today!