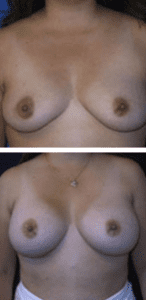 You will be confronted with a number of options and choices throughout your breast augmentation process. From implant material to implant placement, each choice will impact the look and feel of your breasts. However, one question we hear more than any other is, "What size implant should I choose?"
Size certainly plays an important role in your breast appearance, and it is not an easy decision to make without a consultation. These are a few factors we will evaluate to determine which implant size is likely best for you.  
Personal Preference
Your consultation will include a detailed discussion about your personal preferences. Two women with the same body type may choose vastly different implant sizes because they are trying to achieve different looks. Bring in photos of breast and body shapes you wish to achieve with your augmentation. Dr. Andreasen will combine your aesthetic desires with your natural body shape to provide a suggested implant size.  
Chest Width
The natural shape of your body can impact the size of implant that would be best for your augmentation. Moderately sized implants can look larger on women with small or more narrow chest widths. When we choose an implant, we want to ensure that it complements and looks natural with your frame size.
Implant Placement
Where your implant is placed can impact the size of implant chosen for your surgery. Larger implants may be necessary when implants are placed under the muscle in order to achieve the overall look and shape you desire.
Scheduling a Consultation
Dr. Andreasen performs all physical evaluations to help determine the best implant size for you. During your consultation, we may use simulation implants placed in a bra to help you determine if your suggested size is creating the breast look you want. The consultation is the most important step of your breast augmentation process, and no final implant decisions can be made without a consultation.
To schedule your breast augmentation consultation with Board-Certified Plastic Surgeon Troy Andreasen, call our Inland Empire office at 909-291-4900 or contact us online.