3 Minute Read: 
Using a high quality skin care product is the first step in keeping your face, neck, and décolletage looking young and beautiful.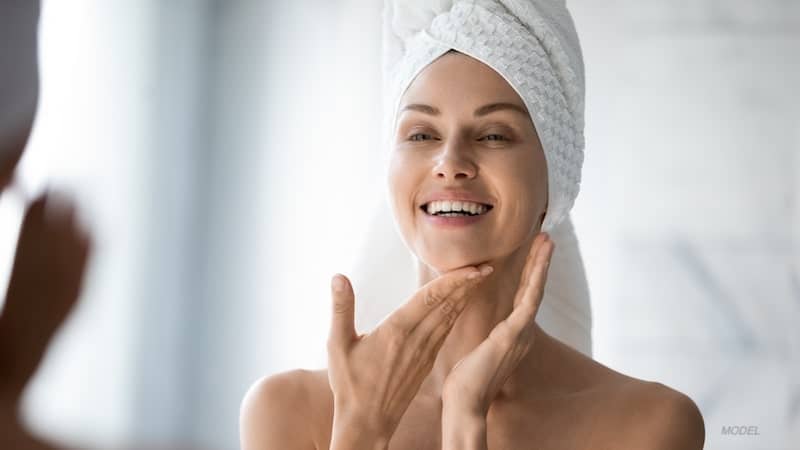 With so many creams and lotions being advertised as the newest and most effective way to tighten, brighten, and minimize wrinkles, it's hard to know which products will work best for you.
Skin Care Advice You Can Trust
When it comes to trusting recommendations for skin care products that are right for you, there's no better source than a doctor who understands the effect aging has on the skin. 
For this reason, we have put together a list of the best medical-grade skin care options and some other highly-effective treatments recommended by Dr. Troy Andreasen, a well-respected plastic surgeon in Southern California.
Medical-Grade Skin Care Options
Dr. Andreasen recommends the following medical-grade skin care products:
The SkinMedica® Line

– This scientifically formulated product line rejuvenates the skin by promoting the body's own healing capabilities. SkinMedica®'s restorative ingredients work below the surface to rejuvenate skin from the inside out by reducing the appearance of

age spots, discoloration, lines,

and

wrinkles

while improving overall tone, brightness, and elasticity.
Vitamins C and E, retinol, soluble collagen, antioxidants, matrix proteins, and TNS® (a patented blend of growth factors) all work together to restore and support your skin's health. 
The Obagi Line

– Obagi's clinically proven and technologically advanced prescription skin care products are designed to penetrate deeply into the skin to treat acne, rosacea, hyperpigmentation, premature aging, sun damage, and blemishes.
Obagi includes the following products:
The

Obagi-C® Rx

System 

The

Condition & Enhance®

System 

The CLENZIderm M.D.® Systems

Blue Peel®

Blue Peel RADIANCE™

The

Rosaclear™

System

The

ELASTIderm®

family of products
These customizable prescription-strength skin care products were created to meet unique skin challenges and concerns.
The Neova Line

– Neova became an innovator in

clinical skin care

when they introduced a copper peptide complex to battle

photodamaged skin

.
Neova's award-winning DNA repair formulas offer dramatic results for aging or prematurely aged skin on a cellular level.
These advanced medical-grade skin care lines are exclusively available through participating physicians.
Going Deeper With Doctor-Approved
Chemical Peels
The following cosmetic procedures can reveal fresh new skin and correct a number of flaws and blemishes:
The VI Pee

l

– In the past, the only good chemical peel was a painful chemical peel. Those days are over, and the VI Peel offers dramatic results quickly with little or no downtime.
Effective and safe for any skin type or color. This chemical peel treats melasma, fine lines, sun damage, acne, acne scars, and enlarged pores with excellent results, often with only one treatment. Expect skin flaking and peeling to start three days after your procedure, lasting between one to five days. A quality moisturizer can be used to control this process. 
The Rejuvenation Peel

– This superficial peel is effective in fighting the effects of acne, acne scars, aging, sun damage, and melasma. 
Milder and safe for all skin types, the Rejuvenation Peel can help you look younger in minutes and involve light to medium flaking and peeling. More dramatic results are achieved after a series of these peels. 
Cosmetic Treatments and Medical-Grade Skin Care in
Ontario, CA
Want to learn more about medical-grade skin care or advanced chemical peels? Call Dr. Andreasen's Ontario, California, plastic surgery practice at 909-291-4900 today for your skin care consultation. You can also scroll down to contact us online.
His well-qualified and friendly team is happy to help you!