3 Minute Read: 
With nearly 100,000 procedures performed in 2020, tummy tuck surgery (abdominoplasty) is one of the most popular and transformative cosmetic surgical procedures available to men and women.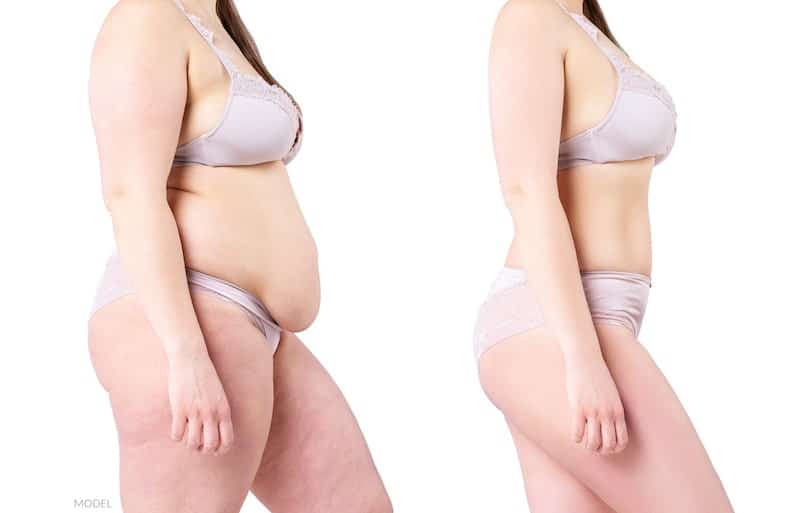 And when you look at the benefits that a tummy tuck offers men and women (fat reduction in the midsection, tight abdominal muscles, and the removal of sagging belly skin), there's no wonder why so many people undergo this procedure. 
However, tummy tuck surgery only addresses issues (excess fat and sagging skin) in the abdominal area. 
In truth, a traditional tummy tuck is not the best option for men and women who suffer from extensive fat and sagging skin in the midsection and fat and skin laxity in the flanks and lower back. 
Whether you struggle with issues in these areas from extensive weight loss (either through natural diet and exercise or through bariatric surgery) or you simply have excess fat and skin you want to remove, then an extended tummy tuck may be the right surgical option for you!
What Is the Difference Between a Tummy Tuck and an Extended Tummy Tuck?
As the names suggest, both of these procedures are tummy tucks, which means that they employ similar techniques to correct excess fat, loose muscles, and sagging skin; however, an extended tummy tuck, also known as a circumferential body lift, is a more extensive procedure than traditional tummy tuck surgery.
Traditional Tummy Tuck
With a

traditional tummy tuck

, your surgeon will make an incision just above your pubic area. 

This incision usually stretches from hip to hip. 

Liposuction surgery

may be used to remove any excess fat in the area. 

Then, your surgeon will tighten

underlying muscles

with

internal sutures

. 

Excess skin will be surgically removed, and the remaining skin will be tightened to give you a more trimmed and defined abdominal appearance. 

Most

tummy tuck procedures

take about two and a half hours to complete.
Extended Tummy Tuck
With an extended tummy tuck, a tummy tuck incision is used; however, the incision will extend beyond the hips and onto the lower back. 

Then, your surgeon will use

liposuction

to remove

subcutaneous fat

from your belly, lower back, and flanks. 

Underlying muscles will be tightened with internal sutures, and your surgeon will remove excess skin in the abdomen, lower back, and flanks. 

The remaining skin will be pulled tight and the incisions closed to give you a more sculpted aesthetic throughout your entire midsection. 

Additionally, the belly button will be repositioned to give you a more natural appearance. 

An extended tummy tuck generally takes three hours or longer to complete, depending on the extent of correction needed.
How Can I Get the Most Out of My Extended Tummy Tuck?
While extended tummy tuck surgery can be performed on its own to give you the sculpted and rejuvenated appearance you desire for your body, many patients choose to combine their extended tummy tuck with other surgical procedures. 
By combining procedures, you can achieve a more complete transformation as well as minimize overall cost and recovery time, since you are having and recovering from the procedures at the same time. 
Some of the most common procedures that patients choose to combine with their extended tummy tuck include: 
Regardless of whether you choose to have your extended tummy tuck as a standalone procedure or combined with other surgical treatments, you can trust Dr. Troy J. Andreasen and his knowledgeable and skilled staff to give you the results you desire. 
Not only will you be able to look fantastic, but you can feel confident and comfortable at the same time!
Interested in Learning More?
If you would like to know more about extended tummy tuck surgery or any of the other procedures we offer, then contact our office at (909) 291-4900 or schedule a consultation online today!