2 Minute Read: 
Following breast surgery, compression is a key component of the recovery process. A compression garment is worn early after surgery to facilitate healing and enhance results.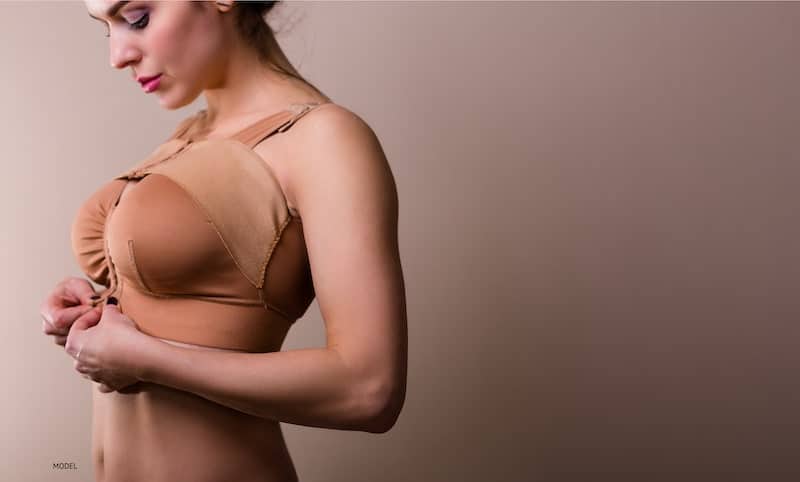 The medical compression garment is constructed from strong, synthetic fabrics that apply the needed pressure to the targeted area for comfortable support. It is considered a woman's best friend after undergoing breast augmentation and/or breast lift surgery or other surgical body contouring procedures.
Here is why.
1. Reduces Bruising and Swelling
Wearing a compression garment after your breast augmentation or breast lift applies even pressure across the treatment area, preventing excessive buildup of fluids. The garment also helps your body absorb any accumulating fluid. Without it, post-op swelling can linger much longer than necessary.
Additionally, a compression garment will minimize bruising by preventing blood from flowing towards the skin's surface. This helps to reduce the appearance of bruises.
2. Helps Prevent Formation of Blood Clots
Blood clotting is a significant risk with any surgical procedure. Fortunately, compression garments can help promote effective circulation, reducing your risk of complications related to blood clots.
Proper blood circulation also plays an important role in wound healing and decreases the chances of infection.
3. Reduces Recovery Time and Speeds the Healing Process
By wearing a compression garment, patients can expect to experience a pleasant and quicker recovery. By managing post-operative swelling and discomfort, the recovery process becomes shorter, allowing patients to get back to living their life sooner.
4. Enhances Final Results
Wearing a compression garment provides the needed support, keeps the implants in place after augmentation, and achieves a smoother and more even outcome. The garment helps your skin contract to its new contours more seamlessly and ensures surgical incisions heal correctly — which is vital for aesthetic results following breast surgery.
Most patients also find that compression garments help with proper posture and facilitates easy movement afterward. In addition, the use of compression garments can help reduce pain.
How Long Should I Wear My Compression Garment?
Dr. Andreasen will advise on the specific time frame depending on the procedure and the surgery's extent. Typically, most patients will be required to wear a compression bra during their initial part of recovery (two weeks after surgery).
At that point, you can switch to a compression sports bra but make sure to avoid anything with an underwire. This can be worn for another two weeks, day and night.
Lastly, your compression garments should feel noticeably snug but not overly restrictive or bulky.
Interested in Starting Your Breast Surgery Journey?
If you would like to learn more about the breast enhancement surgeries offered by Dr. Andreasen and how to best manage your recovery process, contact us today by giving us a call or filling our online contact form. We will be very clear about your expectations and guide you on your journey to full recovery.