3 Minute Read: 
Are the signs of aging getting you down?
Over time, many people develop wrinkles and loose skin on the face. Various factors cause wrinkles, including fat loss in the skin's layers and a breakdown of connective fibers.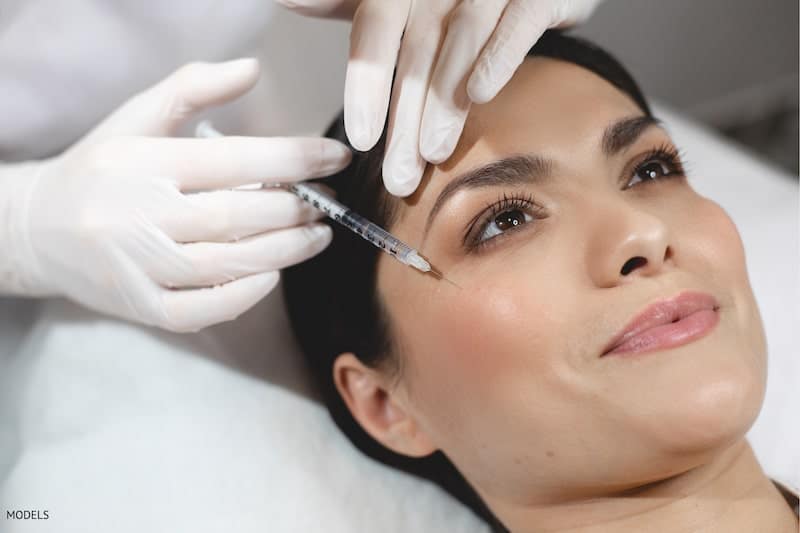 Facial changes can cause great distress. You might not relate to your outer appearance and may lose confidence, which can — in turn — impact all other areas of your life.
If you are tired of trying over-the-counter anti-aging options and are not comfortable with cosmetic surgery, there may be another option: a liquid facelift.
What Is a Liquid Facelift?
A non-surgical liquid facelift is a collective term coined to describe facial rejuvenation using injectables. Here, dermal fillers and/or neuromodulators are injected into your skin to smooth lines and restore volume.
Fillers add volume to your face to help smooth lines and wrinkles. Neuromodulators relax your muscles to reduce expression-causing wrinkles. 
The result? A younger-looking face.
Types of fillers and neuromodulators include:
Liquid facelifts can tackle lines and creases around the eyes, mouth, temples, forehead, and cheeks.
How Long Does This Injectable Procedure Take?
Many people choose a single filler in one area or choose BOTOX® Cosmetic only. While these are both injectables (like the liquid facelift), they are not a full liquid facelift. 
A liquid facelift is a term used when several types of injectables are used across multiple areas in the facial structure. 
You will need several injections in just one session for a liquid facelift. Each injection usually takes a few minutes. Total treatment time is usually less than an hour.
Are Injections Painful?
Injection sites are numbed with an anesthetic before your procedure. Additionally, some dermal fillers contain lidocaine in their design to further enhance comfort during and after the injection.
You might feel slight discomfort because of the needle, but there is usually no pain.
How Long Does It Take to Recover From a Liquid Facelift?
Liquid facelifts have minimal downtime. Most people can return to work immediately following the procedure. You may have minor bruising and swelling for a couple of days.
In comparison, you would need around a month to fully recover from a surgical facelift, including time off work.
How Soon Will I See Changes After My Liquid Facelift?
While you may start to notice a difference in your facial contour immediately, most results take up to a week to finalize. 
Even so, there is no waiting for bruising, cuts, and swelling to heal before basking in the benefits.
Are My Liquid Facelift Results Permanent?
The effects of fillers and neuromodulators do not last indefinitely. All of these substances eventually wear off or get absorbed by the body.
To maintain your new, more youthful appearance, you will need to repeat your procedure every few months. This time period varies depending on the types of injectables used. For instance, hyaluronic acid (HA) dermal fillers last much longer than BOTOX® Cosmetic, and RADIESSE® can last longer than HA fillers.
How Much Do Liquid Facelifts Cost?
The exact cost of your non-surgical facelift will depend on several factors. These include the number of injections and the type of fillers or neuromodulators used.
When compared with the price of a full surgical procedure, liquid facelifts are an affordable solution for a younger-looking face.
Ready to Turn Back Time?
With a very low risk of side effects and complications, a liquid facelift can be the ideal solution for mild to moderate facial concerns.
Want to iron out your wrinkles and effortlessly rejuvenate your face? Contact us at (909) 291-4900, or arrange a consultation through our online form.