2 Minute Read: 
Do you have loose and hanging skin around the thighs that make you self-conscious about your appearance?.
It can be uncomfortable and awkward trying to cover up your thighs every time you wear a figure-revealing outfit, whether in the gym, at the beach, or attending a special occasion. 
Unfortunately, no amount of exercise or weight lifting can sufficiently address the thigh skin redundancy. If anything, you risk dealing with more excess skin.
Many women and men who are unhappy with the appearance of their inner or outer thighs have achieved a smoother, shapelier leg contour with a thigh lift. 
The procedure is an excellent choice for anyone who has undergone significant weight loss or those seeking tighter thighs without excess skin, saddlebags, and inner thigh fat pockets.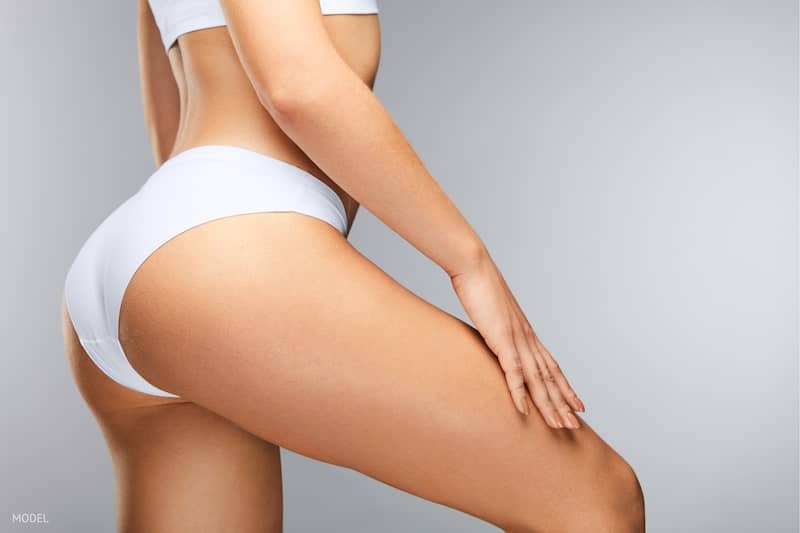 Most women consider thigh lift surgery to:
1. To Remove Excess Skin and Fat
With massive weight loss, your thigh skin can lose its elasticity, leaving folds of skin behind. A thigh lift is your only bet for toned and tight-looking thighs. 
Liposuction is often incorporated into the procedure to remove unwanted fatty tissue for optimal contouring purposes.
2. To Achieve a Firmer Thigh Appearance
If you have loose muscles, your thighs can appear saggy, dimpled, or flabby, making you look older than you are. 
You can expect a smoother, firmer, and more youthful appearance to your thighs after a thigh lift as the procedure not only addresses excess leg skin but also tightens the underlying muscle contour.
3. To End Chafing and Discomfort
Excess sagging skin causes skin creases to develop, which can be very unappealing or even result in painful chafing, especially when the skin rubs against the surrounding areas. 
A thigh lift can minimize inner thigh skin folds and trim away excess thigh skin and fat for improved comfort. After recovery, most patients are able to enjoy physical activities without discomfort.
No more tugging down your pants or powdering your inner thighs.
4. Lessen the Appearance of Stretch Marks
Weight fluctuations result in stretch marks on the thighs and buttock area. By tightening the skin, the appearance of stretch marks is considerably reduced, allowing you to enjoy a confidence boost.
Additionally, if the stretch marks were located on the removed skin, those marks will be gone for good!
5. Reduce Skin Infections
Individuals who have excess skin on their thighs may experience irritations, rashes, and skin infections when the excess skin rubs together. 
Once the hanging skin between the thighs is trimmed away, you can expect a decreased risk of rashes, open wounds, and infections.
Ready to Reap the Vast Benefits of a Thigh Lift?
If you are ready to eliminate the annoying saddlebags or sagging skin on your thighs, do not hesitate to contact us at (909) 291-4900 or fill out our online form to schedule a consultation with Dr. Andreasen. 
Each surgical plan is tailored to meet the patient's needs to enhance their natural beauty and restore confidence.