3 Minute Read: 
Deciding to plunge into breast augmentation can be overwhelming. It is not something to take lightly. 
Besides the breast implant surgery, you will have to dedicate a couple of weeks to your recovery and will essentially alter how you look. And even though it is a welcome change, it is a change. 
Being a purely personal decision, you need to make sure that you are both physically and emotionally ready for your breast enhancement.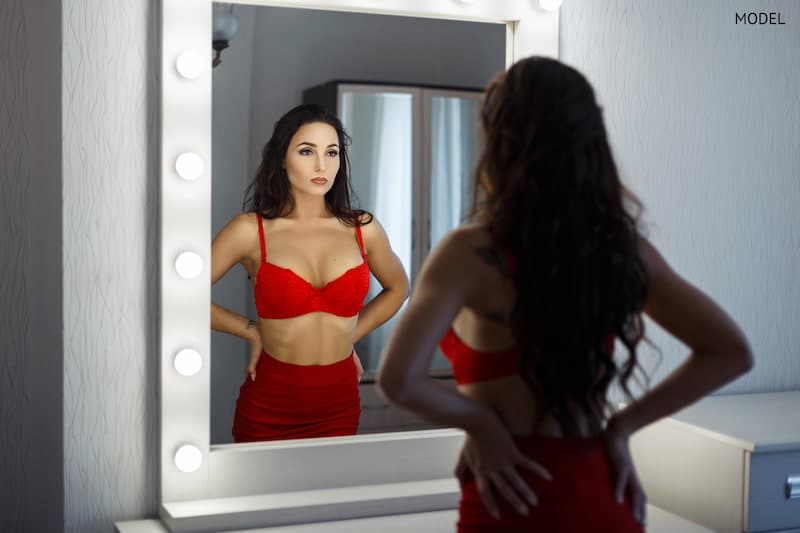 Women consider breast augmentation for various reasons. While some want to enhance their naturally small breasts or alter the shape of their breasts, others want to address issues like asymmetry. Whatever the issue may be, it is important to carefully consider your decision and be confident in the next steps, as this sets the stage for a truly rewarding transformation.
So, how do you know if you are truly ready to take the next step in your cosmetic surgery journey and get a breast augmentation?
Mental Factors
Am I mentally ready for breast surgery? 
Am I choosing to enhance my appearance to improve my self-confidence or physical comfort, or am I just doing it because of outside pressure? 
These are really important questions to ask. Ensuring that the decision is truly yours and that your motivations are healthy is essential before committing to a surgical procedure. You are enhancing the size and shape of your breasts, and this changes your body contour and how you present yourself. 
Physical Factors
For a woman who plans on getting pregnant soon, for instance, in the next 12 months, breast augmentation results may diminish after nursing, so it is best to wait until after childbirth to have the surgery. 
Another physical consideration besides pregnancy is having a stable weight. If you plan on losing a significant amount of weight, it would be best to hold off your breast augmentation plans until your weight is stable. This helps to avoid sagging skin/breasts post-surgery.
Scheduling Factors
Scheduling factors will also influence your decision. You want to consider these two scheduling elements:
The surgeon's schedule

– The top plastic surgeons in the Inland Empire tend to be very busy. That means that you may need to wait a while to get slotted into their surgery schedule.

Your recovery schedule

– Like any surgery, breast augmentation requires some downtime to fully rest and recover. You do not want to rush your recovery by getting back to work too soon, so you have to schedule your surgery to a time when you can stay at home and be on light duty for about two to three weeks.
Interested in Learning More?
Being well-prepared for your breast augmentation can lead to a comfortable and stress-free recovery that helps you achieve beautiful results. Contact us today at (909) 291-4900 to learn more about breast augmentation and whether you are a good candidate for the procedure.
Dr. Andreasen offers breast augmentation surgery, breast lift surgery, breast revision surgery, and many other face and body plastic surgeries for women and men in the Ontario, California, area.