4 Minute Read: 
If you find yourself frustrated with age-related skin issues like wrinkles, fine lines, skin laxity, and/or loss of volume, the good news is that there are many different cosmetic treatment options to help you rejuvenate your face so that you can look and feel your absolute best.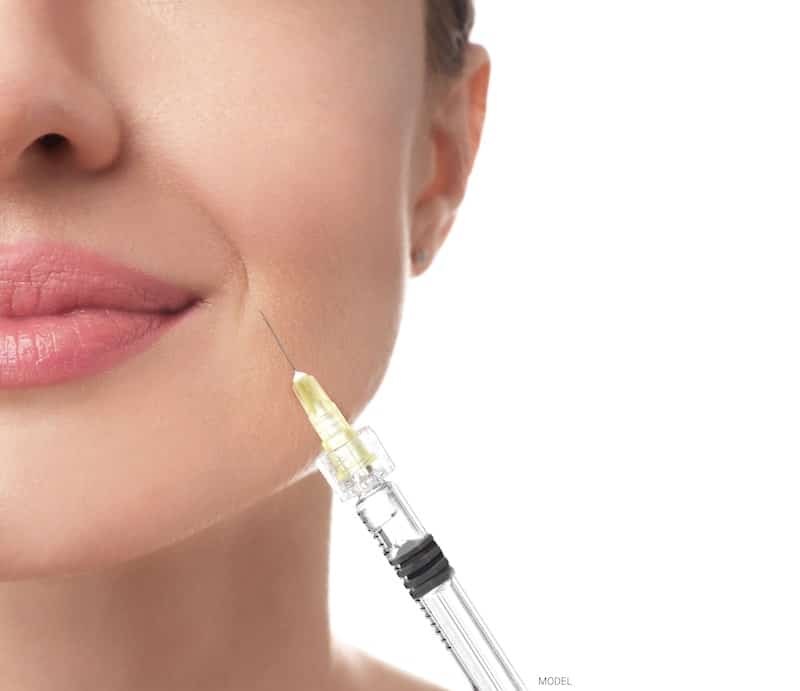 Dermal fillers are one of these options. They can help you feel more confident and comfortable with your appearance. However, because there are so many different dermal filler options, choosing the right one can feel impossible. 
If you are looking to undergo a non-surgical cosmetic treatment to help bring back a youthful appearance but don't know which injectable filler you should choose, this blog is for you! 
Below, we will explore some of the most effective fillers available so that you can achieve the youthful look of your dreams.
What Are Dermal Fillers?
Dermal fillers offer a non-surgical solution to many of the different cosmetic concerns men and women struggle with. 
Age and lifestyle can take its toll on your facial skin. And while you want to get rid of these facial skin concerns, you may not need or want to undergo a surgical procedure with all of the requirements that come with it (anesthesia, incisions, resulting scars, recovery and downtime). 
That's why dermal fillers are such a fantastic option.
Not only are injectable fillers effective, but the treatment sessions generally only take 15 to 60 minutes and require little to no recovery time and no downtime. 
For a dermal filler treatment, your cosmetic surgeon will inject the filler solution into target areas of your skin. Your results will be immediate and can last several months before needing maintenance injections.
What Fillers Can I Choose From? And What Do They Do?
Dr. Troy Andreasen and his trusted team offer some of the most revolutionary dermal fillers available, including:
JUVÉDERM®
The JUVÉDERM® line of fillers is one of the most trusted names in injectable fillers. 
JUVÉDERM® fillers are composed of hyaluronic acid (HA), which works to attract and retain moisture in the skin. This allows the skin to become fuller and firmer, which restores lost volume while smoothing wrinkles and other lines. This injectable filler works best with restoring lost volume to various areas of the face, such as the cheeks, lips, and around the mouth. 
Restylane®
Like JUVÉDERM® fillers, this option also uses hyaluronic acid to help facial skin achieve a fuller, healthier appearance; however, Restylane® fillers work better to correct moderate to severe wrinkles and skin folds, especially nasolabial folds (the lines that stretch from the nose to the corners of the mouth). The success of this filler can be attributed to the fact that it is made of a hyaluronic acid gel that helps to smooth out deeper folds in the skin.
RADIESSE®
Unlike many of the other dermal fillers, RADIESSE® fillers do not use hyaluronic acid to correct the appearance of the skin. 
RADIESSE® can also be used on both the face and hands to reduce the presence of wrinkles. 
Instead of filling in skin lines with HA, this injectable works by stimulating the body's natural collagen production. This is important because collagen is responsible for the skin's overall health, strength, and elasticity, which means that RADIESSE® helps your body to naturally correct skin concerns.
Perlane®
Perlane® dermal fillers correct severe wrinkles. Perlane® fillers work to restore age- and lifestyle-related volume loss, where the facial skin looks hollowed out and gaunt. 
These areas tend to be under the eyes, in the cheeks, and along the jawline. With this injectable, you can achieve a more balanced and healthy fullness to your face.
How to Know Which Is Right for You?
The first and most important step in rejuvenating the skin on your face and body is scheduling a consultation. During your dermal filler consultation, you will be able to discuss your skin concerns and aesthetic goals, and your injectable provider will be able to decide which injectable filler is best for treating your specific concerns. 
A rejuvenated and more youthful look is just a treatment away, so don't put it off any longer!
Want to Learn More?
If you are interested in injectable fillers or any of the other surgical or non-surgical procedures we offer, contact our office today at (909) 291-4900 or schedule a consultation online today!