4 Minute Read: 
Gynecomastia is a condition that results in enlarged breast gland tissue in males, which causes "man boobs," as they have come to be called. While this condition is relatively common in men, affecting up to 65% of adult males, if you struggle with gynecomastia, then you know just how frustrating and often embarrassing it can be.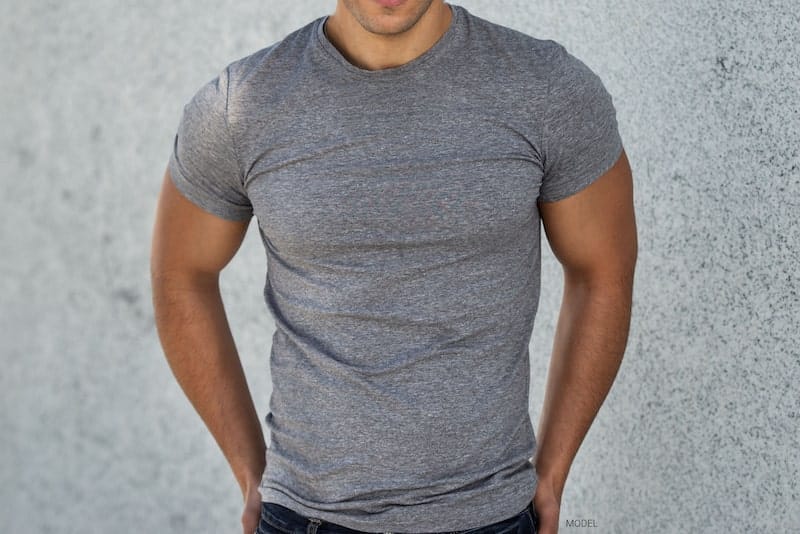 While many men try to hide their breasts (wearing baggy clothes and jackets or simply staying away from certain social situations, like gatherings at the beach or pool), the reality is that this condition often cannot be improved by natural means (diet and exercise). 
If you struggle with gynecomastia and you are ready to get rid of your breasts, then there's good news! 
Gynecomastia surgery can help you lose the excess and gain a masculine chest. Below, we will explore gynecomastia, including the details of gynecomastia surgery and how it can help you!
What Causes Gynecomastia?
Gynecomastia is the result of hormone imbalances (namely estrogen and testosterone) in your body. 
This imbalance often affects boys who are going through puberty. For many pubescent boys, their bodies balance the levels of hormones naturally; however, for others, this balancing never happens, and they are left with enlarged breasts as adults. 
Puberty is not the only cause of gynecomastia. The use of steroids, drugs (like marijuana), and the presence of health conditions, such as tumors and hyperthyroidism, have also been known to cause gynecomastia. 
Cosmetic surgery is the only way to correct gynecomastia. Luckily, gynecomastia surgery is a trusted, safe, and effective procedure for helping men achieve the physique they desire while regaining confidence in themselves.
What Is Gynecomastia Surgery?
Gynecomastia surgery is a cosmetic procedure in which fat and breast tissue are removed from the male chest to achieve a more manly aesthetic. Additionally, the size of the areola can be adjusted to allow for a more natural appearance.
This surgical procedure is performed under intravenous sedation (IV sedation) or general anesthesia to ensure that you don't feel any discomfort during your surgery.
Once the anesthesia has been administered, liposuction surgery, excision, or a combination of both will be used to remove the unwanted fat and tissue. At your consultation, Dr. Andreasen will evaluate your condition to determine which specific surgical method is best for you.
With the liposuction method, subcutaneous fat in the chest will be vacuumed out of the body through a cannula (a small, thin tube). The excision method is used for breast tissue and excess skin that cannot be removed with liposuction. Dr. Andreasen will make incisions in your skin (the specific location and size of the incisions varies with each individual patient and is dependent on the extent of correction needed). 
Once the incisions are made, Dr. Andeasen will surgically remove any excess tissue and skin to create a more masculine and contoured chest appearance. The combination procedure of both liposuction and excision is used for patients who suffer from extensive and "true" gynecomastia.
What Are the Benefits of Gynecomastia Surgery?
While gynecomastia surgery is an invasive procedure, the results that can be achieved from this procedure are transformative. While the benefits of gynecomastia surgery begin on a physical level (a more masculine chest aesthetic), these benefits continue on to improve men's confidence, as well. 
After your gynecomastia surgery, you can feel more comfortable taking your shirt off, whether it be at the beach or pool or during those intimate times with your partner. 
In so many ways, gynecomastia surgery offers life-changing results for men. Isn't it time that you changed your life for the better?
Why Should You Trust Your Gynecomastia Surgery to Dr. Andreasen?
For over two decades, Dr. Troy J. Andreasen has been performing plastic surgery procedures to help patients achieve their cosmetic and aesthetic goals. He is dedicated to each one of his patients, making sure to keep their health and successful results at the forefront of everything he does. And what's more, the quality of service that Dr. Andreasen offers his patients extends to the entire staff. Here at Inland Breast and Body in Ontario, California, we are committed to helping you look and feel the way you want!
Interested in Learning More?
If you would like to know more about gynecomastia surgery and how this procedure can help you live the life you deserve, then contact our office at (909) 291-4900 or schedule a consultation online today!