3 Minute Read: 
The upper face is among the first to show signs of age. While some wrinkles and fine lines (such as crow's feet, frown lines, and forehead lines) can be addressed — at least temporarily — by BOTOX® Cosmetic, there may come a time when more comprehensive treatment is necessary.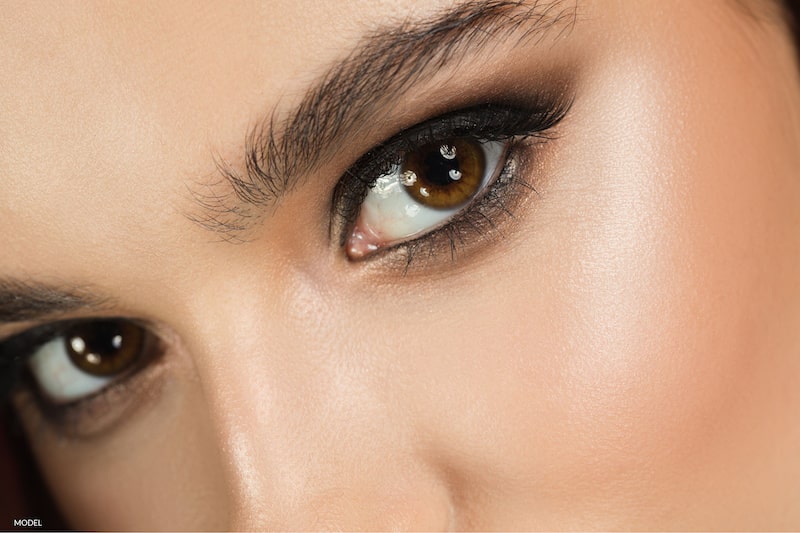 Regarding the eyes and aging, two things can happen — eyelid skin can become thin and droopy, or eyebrows can sag or furrow. These signs of aging can lead to a tired or angry appearance. 
And while these concerns are contained to a very small portion of the face, they require different surgical techniques to correct them.
Understanding Eyelid Surgery
Eyelid surgery (also known as blepharoplasty) is often one of the first plastic surgery procedures chosen by patients to address the onset of aging features. This is because it addresses the eyelids, which often are the first to "age."
The thin skin and tissues on and around the eyelids grow lax, making it more challenging to raise and open the upper eyelids. Additionally, puffy bags tend to develop in the lower eyelids, causing a fatigued appearance.
Eyelid surgery addresses excess skin, fat, and lax muscles on the upper and lower eyelid to:
Minimize upper eyelid hooding

Allow you to open your eyes wider (increasing peripheral vision)

Reduce under-eye bags and puffiness
Understanding Brow Lift Surgery
Brow lift surgery addresses sagging brow and forehead laxity. This treatment tightens the underlying forehead muscles, reducing wrinkles and raising the brows back to a more youthful elevation.
This surgery can sometimes replace the need for eyelid surgery when the cause of the upper eyelid hooding is the pressure from the sagging brow. 
Only a consultation with a plastic surgeon will be able to determine if the brows are the source of your upper eyelid hooding.
When to Combine a Brow Lift With Blepharoplasty
While eyelid surgery and brow lift surgery address different concerns, they are often performed in combination. This is because most patients who experience aging in one area of the upper face also experience aging in the other. 
For instance, many women and men with deep forehead creases also often suffer from frustrations with lax upper eyelids.
Combining plastic surgery techniques has aesthetic, practical, and financial benefits. First, if you experience aging concerns in both areas but only choose to address one, you can be left with an unbalanced and unnatural upper face appearance. Undergoing both procedures helps to ensure a more natural-looking, complete facial transformation.
Additionally, all plastic surgery procedures require time off from your normal routines to recuperate. If you are thinking of both surgeries, why not combine these so that you can recover from both at the same time? 
Also, by doing so, you can actually save on some surgical costs, such as anesthesia fees and facility fees.
Need Additional Facial Rejuvenation?
While eyelid surgery and brow lift surgery are unmatched in their ability to rejuvenate the upper face, they cannot help with signs of aging elsewhere. The midface and lower face experience laxity as well, and an additional plastic surgery technique may be necessary to correct those. 
Patients with deep creases, sagging skin, or loose tissues (including jowls) in the lower two-thirds of the face should consider combining their upper facial rejuvenation with a facelift and neck lift. 
Again, this will help to ensure a balanced and natural look that appears years younger!
Learn More About Facial Plastic Surgery in Ontario, CA?
To learn more about eyelid surgery, brow lift surgery, facelift surgery, or the potential of combining these procedures, contact Dr. Troy Andreasen and his team by calling (909) 291-4900 or filling out his online contact form.