3 Minute Read: 
Let's be honest, we all want a defined and contoured appearance, meaning we want to eliminate any rolls of fat we may have on our bodies. 
And while diet and exercise can minimize fat in some of these areas, traditional methods don't always work the way we want. Fortunately, plastic surgery is a tried and true method to achieve the body contours we truly want.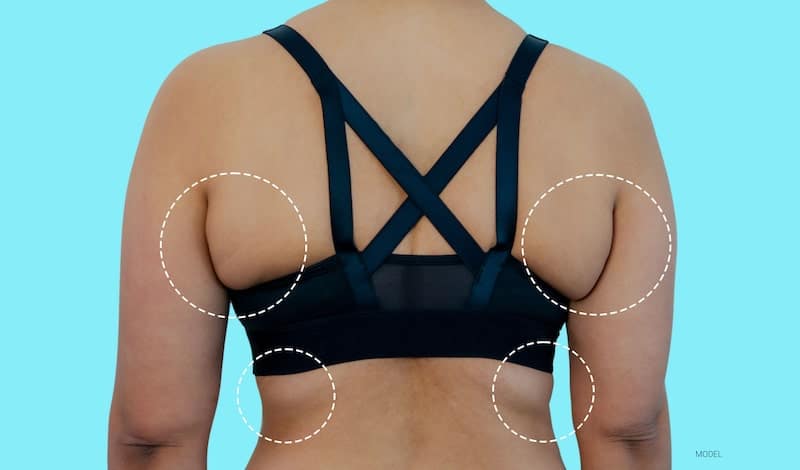 Stubborn fat in the body can be corrected with well-known cosmetic procedures like tummy tuck surgery, liposuction, and thigh lift surgery. 
But what about fat in those areas of the body that people tend not to think much about? 
One of these areas is the back. The truth is that back fat can be troubling for many people, especially women. When many women wear bras, the pressure from the band creates "bra fat rolls," which can cause numerous physical and psychological frustrations. 
Fortunately, bra fat removal surgery can help to get rid of this unwanted fat.
Why Should You Be Concerned With Your Back Fat?
Whether in a dress, bathing suit, or T-shirt, rolls in the middle of your back can disrupt your contours — and who really can (or wants) to wear smoothing shapewear all the time? 
These unsightly rolls can keep you from rocking the clothes you want and participating in some of your favorite activities, especially during those hot California summer months when all your friends are at the pool or beach.
To make this cosmetic issue even worse, there really is no way to diet or exercise bra fat rolls away. Whether from age, lifestyle, or life events, this fat can develop in the back, and once it's there, it can remain permanently. That is unless you take matters into your own hands with cosmetic surgery. 
What Does Back Fat Removal Surgery Entail?
Bra fat roll surgery can be performed in one of two ways. 
Depending on the extent of correction needed, you may only require liposuction of the fat. With liposuction surgery, the fat will be suctioned out of your body, and once it is removed, it's gone permanently. This technique is best for women who experience only mild fat rolls and minimal skin laxity. 
For women with more significant amounts of subcutaneous fat and sagging skin in the back, liposuction is combined with surgical excision of excess skin (upper body lift).
Dr. Andreasen will evaluate your condition at your consultation and determine which technique is right for you. 
What Else Should You Know About Back Fat Removal?
While some women only struggle with bra fat rolls, most women who want to correct their bra fat also require other procedures to help them achieve the trim and contoured body they desire. 
This may include having unwanted fat and sagging skin in the belly, thighs, or arms. 
Unfortunately, many women with bra fat rolls tend to overlook their bra fat in favor of only having a tummy tuck, thigh lift, or arm lift surgery (brachioplasty). However, instead of giving yourself only partial improvement, consider combining bra fat removal surgery with your other body contouring procedure(s). This can help give you the complete results you want to help you feel the very best about your appearance.
A Smoother Back Is Waiting for You!
If you would like to know more about back fat removal surgery or any procedure offered by Dr. Andreasen in the Inland Empire, contact our office at (909) 291-4900 or schedule a consultation online today!