4 Minute Read:
Cosmetic surgeries like facelift surgery target wrinkles and skin laxity by tightening the skin and underlying tissue to lift, contour, and shape. A facelift can reduce wrinkles and facial contours, but non-surgical treatments like a chemical peel are your best bet for surface concerns.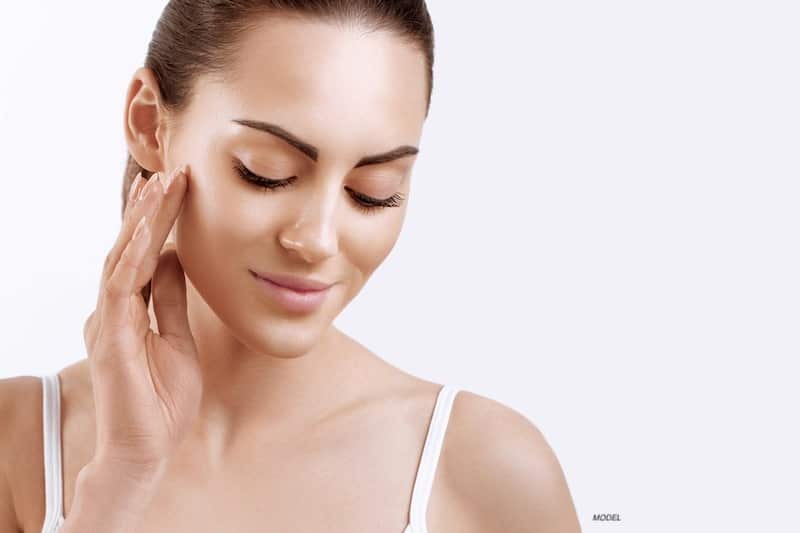 Below, we will discuss the benefits of planning your facelift and a chemical peel to experience total facial rejuvenation — from deep structure to surface.
Can a Facelift and a Chemical Peel Be Performed at the Same Time?
The short answer is no — a facelift is a surgical procedure that can be combined with other procedures like a neck lift or upper facial rejuvenation (eyelid surgery or brow lift), but not non-surgical treatments.
In fact, it is not advised to undergo a chemical peel until you have recovered from your facelift.
However, there are many benefits to planning your chemical peel after your facelift procedure. If you suffer from surface-level skin concerns like acne and scarring, large pores, sun damage, and hyperpigmentation, a chemical peel — such as the VI Peel® — can target those issues to give you full-face rejuvenation.
What Are the Benefits of a Facelift?
Facelift surgery targets wrinkles, fine lines, skin laxity, and misshapen or sunken facial contours. During this procedure, your surgeon will make small incisions around the hairline and ear and pull the skin and underlying tissue taut before excising excess skin.
At Inland Breast and Body, you have various options for your facelift procedure, depending on the area and severity of the concern.
The traditional facelift targets a large area of the face — from the top of the cheeks to the upper neck — to create a more defined contour and minimize wrinkles.
The mini facelift is ideal for patients with more moderate skin laxity, targeting the lower face and cheeks.
A standalone neck lift is another option, focusing on excess skin around the neck, making this a great procedure to combine with a facelift or mini facelift.
A facelift can greatly reduce the appearance of wrinkles in one procedure, restructuring the skin, tissue, and underlying muscles.
However, if you have surface-level concerns, you may still be dissatisfied with the appearance of your skin. It may be disheartening to go through facelift surgery to find that you are still self-conscious about acne scars or hyperpigmentation. That's where a chemical peel can help!
What Are the Benefits of VI Peel®?
A chemical peel is a non-invasive skin resurfacing procedure where a chemical solution is applied to the skin to remove the top layer (or epidermis). They vary in the type of solution used, the depth of exfoliation (epidermis to the dermis), the length of recovery time, and patient comfort level.
The VI Peel® combines the power of more painful procedures with the painlessness of mild ones. That's right: less pain, more power.
In a 30-minute treatment, you can experience improvements to many surface-level concerns, such as:
Fine lines and wrinkles
Sunspots and discoloration
Keratosis pilaris (chicken skin)
Acne and acne scarring
Each patient is different; some will need more than one treatment to see advanced improvement, especially if the issues are severe.
As a relatively painless chemical peel, most patients report numbness and tingling during the procedure rather than a burning sensation like with many other peels. Additionally, since the VI Peel® resurfaces the skin, you will experience peeling of the top layer of skin about three days after your treatment. This is normal; once the dead skin falls off, you can reveal your new, glowing skin!
Want to Combine the Facelift and VI Peel®?
While not performed at the same time, you can plan your full-face transformation at Inland Breast and Body in Ontario, California, to get the most out of your facelift and VI Peel®.
It's a good idea to plan your IV Peel® after entirely recovering from your facelift surgery to minimize complications and discomfort. Discuss your skin goals with your board-certified plastic surgeon to get the best results for your deep-structure and surface-level skin goals.
Want to Learn More About Facelift and IV Peel® in Ontario, CA?
Call us today at (909) 291-4900 or fill out our online contact form to learn more about planning your facial rejuvenation with a facelift and VI Peel® today.