PHOTO EDITING – PLASTIC SURGERY SIMULATOR
 A Fun Tool – Enhance Your Photos Using SurgeryMorph!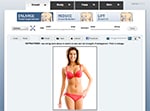 While there is no "crystal ball" when it comes to showing plastic surgery outcomes, SurgeryMorph puts web-based tools intended to approximate enhancements at your fingertips.
While you will want to consult with Dr. Andreasen to get an idea of realistic expectations, SurgeryMorph gives you a chance to try your hand at expressing your cosmetic desires.
Test your photos with Breast, Body, Face or Skin procedures.
When you have edited your photos to your liking, share them on Facebook, email the results to yourself or a friend, and even send your photos to Dr. Andreasen! Remember, SurgeryMorph is for fun and exploration. To get an idea of realistic results, set up a consultation with Dr. Andreasen today.

"Thank you so much for all your help in making this very important decision. Your staff was very welcoming and so sweet. Your honesty is very refreshing and I look forward to soon scheduling my surgery!"
"I have had a few people tell me to check out other doctors with cheaper costs but am not interested at all. I am very insecure when it comes to certain parts of my body and i felt very comfortable and sure that I wanted you to do this surgery."
"I had gone too 2 diffrent locations , this place made me automatically made my mind up I had two recommendations from this place and I love the work they did on them , staff is very nice as well as the surgeon I love this place very pleased with my procedure."
Individual results may vary