3 Minute Read: 
As restrictions have lifted for elective procedures, plastic surgeons have reported a massive increase in procedures targeting the face and neck. 
But why is this?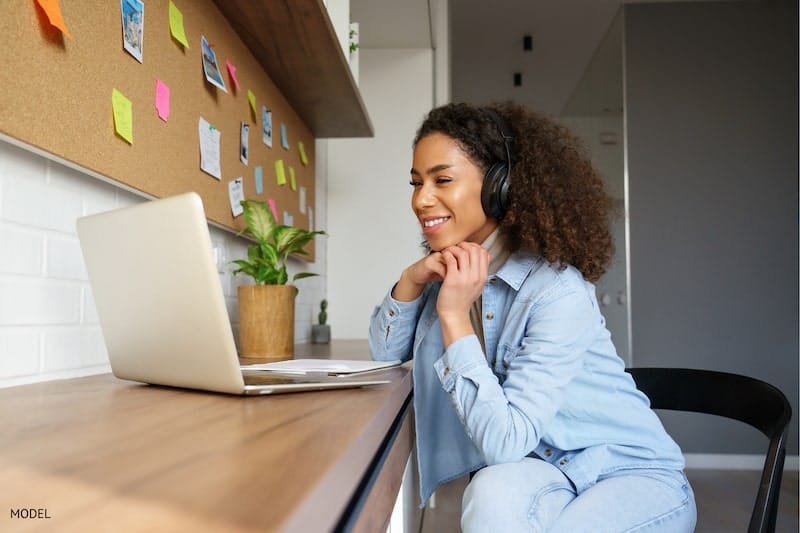 While there is never "one reason" for spikes like this, a major factor seems to be the increase in video conferencing and remote work. Many people spend hours staring at themselves on a computer screen. This, coupled with working from home, makes certain cosmetic procedures more desirable than ever.
Which Cosmetic Procedures Are Seeing an Increase?
Several cosmetic procedures have seen a dramatic rise in popularity over the last few months.
Facelift Surgery
It's no surprise that facelift surgery is seeing an uptick. A facelift is meant to remove wrinkles, reposition facial tissues, and tighten sagging skin. All of these symptoms become more noticeable when using video conferencing applications.  
Rhinoplasty
Cosmetic nose surgery has seen steady increases in recent years as more patients have claimed "selfies" as a contributing factor to their surgical desire. The nose's perspective gets thrown off when a camera takes an image of you from only a foot away. Many people feel as though these images distort their nasal profile. 
This reasoning has only become more substantial during the pandemic when most people sit an average of 12 to 18 inches away from their computer's camera.
Brow Lift Surgery
A brow lift can significantly reduce wrinkles and sagging skin in the forehead and upper face. That is why so many people are lining up to get brow lift surgery right now. 
When working remotely, it can be useful to avoid a resting face that appears hostile, angry, sad, or otherwise unhappy. A brow lift can address these issues.
Injectables
Unlike surgical procedures, injectables are quick, easy, and rarely require much—if any—downtime. Injectables also provide significant aesthetic benefits while costing far less. This makes injectable treatments ideal for pandemic-era cosmetic treatments. 
Some of the more popular injectable treatments include:
How Do I Get a Cosmetic Procedure During COVID-19?
If you are considering a pandemic-era cosmetic procedure, there are a few things you should keep in mind. 
You should be aware of any travel restrictions or lockdown orders in your area. These may or may not apply to medical appointments.

You should get in touch with prospective plastic surgeons remotely if possible. Most plastic surgeons can be contacted by phone, email, or through their websites. 

Virtual consultations are possible these days through video conferencing applications like Zoom or FaceTime. 

Consider the length of time you are willing to spend recovering from your procedure. Some procedures (like injectables) will have little-to-no downtime, while surgical procedures will require more. This may be less of an issue for people working remotely. 

Consider what changes to your lifestyle a cosmetic procedure may mean in the short term.

Is there someone who can drive you home safely after surgery?

Do you have someone to care for you during your recovery?

Will a mask interfere with (or conceal) your surgical scars?
These factors should be on your mind as you consider facial surgery or non-surgical facial enhancement.
Interested in Learning More?
Struggling with the Zoom effect? Are you ready for a younger-looking face? Contact us at 909-291-4900 or fill our online form to schedule a consultation with our cosmetic team.