3 Minute Read: 
Breast asymmetry is a condition where one breast is noticeably larger, smaller, or differently shaped or positioned than the other. The condition is prevalent among women, with a majority having some degree of breast asymmetry, which is considered normal. In most cases, it is so minor that it is almost impossible to notice without an in-depth examination.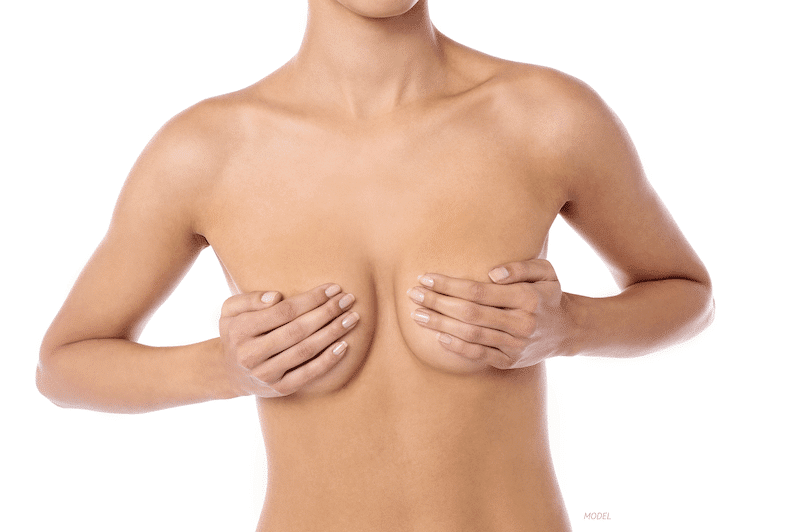 However, for some women, asymmetry is more pronounced, making them self-conscious about their physique. If the differences are greater than one bra cup size, it can cause clothing to fit poorly, significant psychological distress, and even social stigma. 
It can be embarrassing or difficult for these women to deal with this reality, which may lead to a loss of self-confidence, consequentially degrading their quality of life.
What Are My Breast Asymmetry Treatment Options?
Depending on the severity of your asymmetry and desired results, various interventions can help correct your breast asymmetry.
Want to Enlarge the Smaller Breast?
Breast asymmetry can easily be corrected through breast augmentation techniques. For those who are looking to match the size and shape of both breasts, an implant may be used to achieve the desired level of symmetry.
The size of the implants may differ considerably depending on the size of your breasts; for instance, a slightly bigger implant may be used on the smaller breast and vice-versa to enhance symmetry while creating an overall larger bust appearance. 
If there is sagging in one or both breasts, augmentation can be combined with a breast lift for a perkier appearance.
Want to Reduce the Larger Breast?
A breast reduction may yield natural results for patients with overly large breasts. Dr. Andreason will remove excess glandular tissue and fat from the larger breast to make it more equal in size with the smaller one.
For many women, a combination of breast reduction and lift is needed to create a harmonious, balanced, fuller, and firmer bust appearance.
Need to Reposition the Breasts?
Sagging of breasts may make them appear asymmetrical in placement, especially when they begin to point away from one another. A breast lift procedure removes sagging tissue and elevates the breasts to a higher point on the chest, repositioning the nipples to a more natural-looking position. This ensures that both breasts are equally shaped and attractive.
A breast lift may be performed in conjunction with breast augmentation or reduction to achieve optimal results. In many cases, a combination of any of these procedures is used to accomplish comprehensive improvements in the breasts' size, shape, profile, and position.
During your consultation, your plastic surgeon will evaluate your concerns, and depending on your specific characteristics and needs, a surgical plan will be recommended.
Check Out Our Photo Gallery
If you are interested to see how breast surgery has helped our previous patients, visit our breast surgery before and after gallery.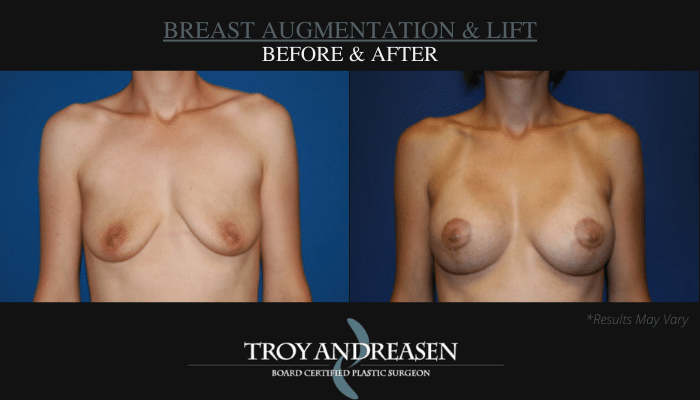 Interested in Learning More?
Do you wish to correct your breast asymmetry? Dr. Andreasen can help. Contact us today at 909-291-4900 or fill out our online form to schedule your consultation and learn which transformative procedures will work for you.