2 Minute Read: 
If you are considering getting multiple plastic surgery procedures, you may have also entertained the option of combining these procedures. 
And that is undoubtedly an option for some patients. 
There are advantages and disadvantages of combining several plastic surgery procedures into a single operation. Make sure you know what those are to make a more informed decision for your situation.
What Are the Advantages of Combining Plastic Surgery Procedures?
Advantage: Saves Money and Time
The most obvious advantage is that combining surgeries saves you both money and time. Patients only require a single operation and recovery period, which is a significant advantage. 
First, since you are only going into surgery once, you only have to pay for some fees (like anesthesia or facility fees) one time. Additionally, you can combine your recovery into one time period. This means you don't have to take time off work and your normal activities twice.
Advantage: More Dramatic Results
Another clear advantage is that you will walk away with more dramatic results. When you are out of recovery, you'll see all the benefits of all your surgeries. 
If you want to shock the people in your life, combining surgeries will definitely get you that reaction! It will seem as if you drastically improved overnight!
Advantage: Safety
You can combine procedures performed in similar areas, such as a breast lift and breast augmentation. In fact, if you have plans to have work done in the same area, it can be safer to combine these surgeries. This reduces the number of times a surgeon has to "go into" the area, reducing risk and making the final results much more polished.
Overall, patients should combine procedures where possible but should ask their plastic surgeon to make sure that it makes sense to do so. Whether you want a thigh lift with liposuction or a facelift with your breast lift, it's up to your doctor to approve the combination.
Is There a Disadvantage?
Disadvantage: Cannot Combine All Procedures
Unfortunately, not all surgeries can be combined effectively or safely. Specifically, patients cannot combine surgical face procedures with body procedures like a tummy tuck or body lift with a facelift. Also, it is usually a bad idea to combine surgeries that require conflicting recovery positions, such as breast augmentation and butt enhancement.
This is because a patient could not keep both incision locations elevated, making their recovery more difficult. And, safety and proper recovery will always be the top concern of any plastic surgeon.
Common plastic surgery combinations include:
Be sure to ask your plastic surgeon about other safe and popular plastic surgery combinations.
What Does Combination Plastic Surgeries Look Like?
If you are considering a plastic surgery combination, you may be anxious to learn what types of results are possible. Visit our plastic surgery before and after gallery to see how Dr. Andreasen has helped his previous patients.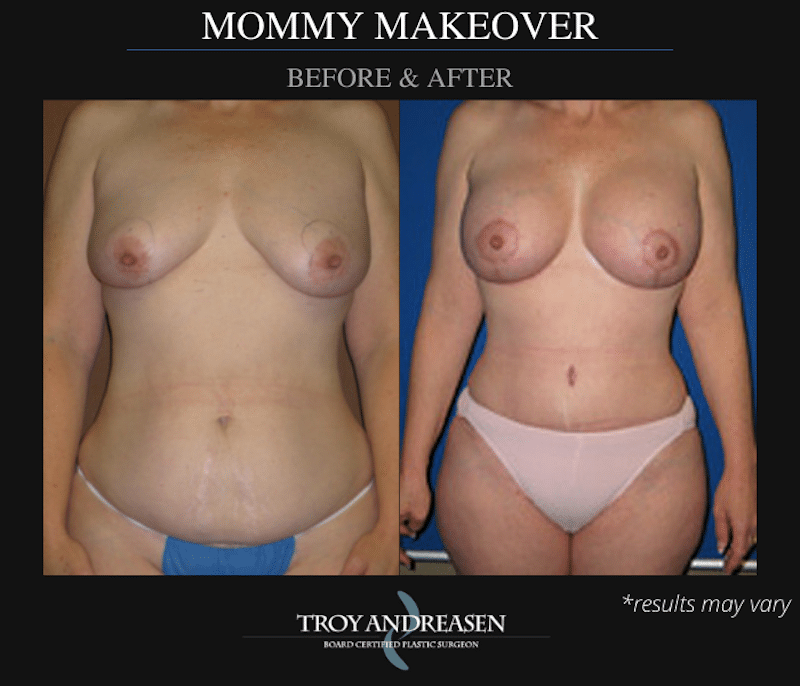 Interested in Learning About Your Plastic Surgery Combinations?
If you want answers about your surgery combinations, book a consultation with Dr. Troy Andreasen. We will take the time to answer all your questions and make sure you are taking the safest approach possible. 
Schedule an appointment today by calling 909-291-4900 or filling out our online contact form.