Certain facial features like an asymmetrical nose, a displeasing nasal tip, and wide nostrils can make a person feel self-conscious about their appearance.
Rhinoplasty is a surgical procedure that has been sought out by many patients who wish to bring harmony to their facial structure.
However, before you decide to have surgery, it is important that you understand the different types of rhinoplasty procedures that are available so that you can best determine which technique will achieve the look you desire.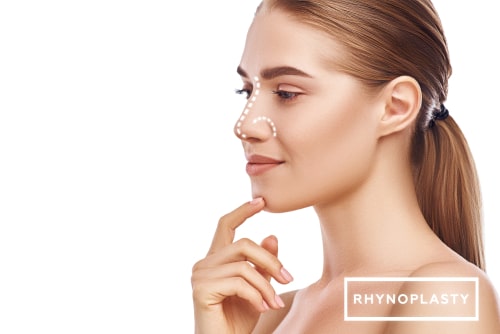 What Is Rhinoplasty?
Rhinoplasty, also known as nose surgery, can alter the size and shape of a person's nose to treat congenital or traumatic nasal deformities that cause aesthetic issues or obstruct the natural breathing pathway.
Most patients who look into rhinoplasty can expect the following benefits:
Enhanced facial harmony
Improved contours
Heightened functionality
Confidence boost
Revision rhinoplasty can also correct a previous nose surgery that did not provide you with the results you were expecting.
What Are the Different Types of Rhinoplasty Techniques?
Some patients wish to rid themselves of their overly large nose. Others feel the shape of their nose needs to be modified to produce a more attractive contour to compliment the rest of their face.
Depending on the amount of correction needed and what your concerns may be, any of the following rhinoplasty techniques can improve your overall appearance:
Open Rhinoplasty
The open rhinoplasty technique will require an incision to be made across the columella, which is found between the nostrils on the base of your nose. This will allow your surgeon full access to the underlying bone structure and result in minor scarring that will fade over time.
Closed Rhinoplasty
The closed rhinoplasty technique will have your surgeon place an incision inside the nostrils, hiding any scarring within the nose. Although this method has a shorter recovery time than open rhinoplasty, it can be more difficult for your surgeon to gain access to the underlying structure of your nose.
Septoplasty
Septoplasty is best performed on patients who struggle with snoring and other breathing difficulties because of a crooked nose. This technique can address a deviated septum by reshaping the cartilage to improve your breathing and quality of life.
If you would like to know more about rhinoplasty, contact our office at (909) 291-4900 or schedule a consultation online today!