2 Minute Read: 
Many women struggle with unwanted rolls of fat and sagging skin around the upper and middle back that puff out around the bra.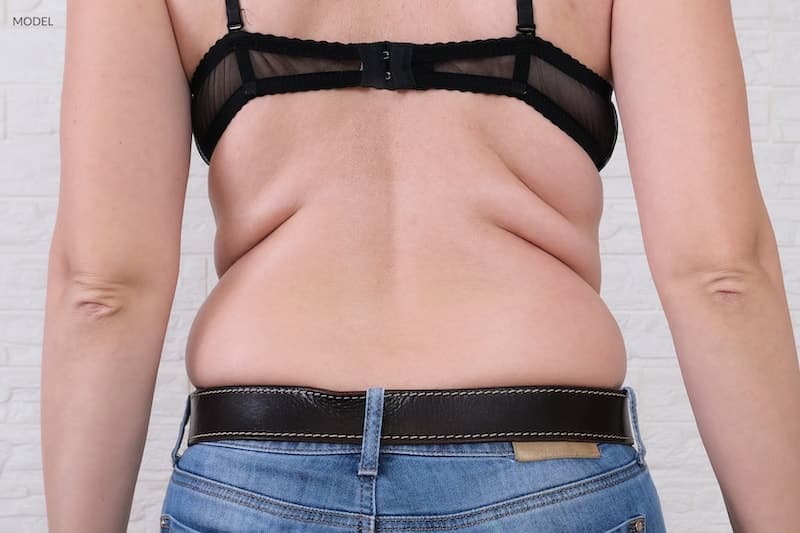 No matter how much you exercise or diet, sometimes the stubborn fat doesn't seem to respond. A bra fat roll removal can help address these concerns. The procedure works by contouring and firming the upper and middle back by eliminating visible fat rolls and unattractive bulges surrounding the bra line.
During the surgery, an incision is made across the target area to tighten loose skin and remove excess fat (using liposuction techniques).
Being an outpatient procedure, patients are allowed to return home after surgery under the supervision of a loved one. 
Here is an overview of the entire recovery process.
1 to 2 Weeks
During this period, patients may experience bruising, numbness, swelling, and some possible fluid leakage from the incisions. This is totally normal and should begin to subside with time, proper rest, and observation of post-operative guidelines. Showering and bathing should be avoided for at least one day.
You will need to wear a compression garment for about two weeks to help with recovery and prevent excessive fluid build-up. Heavy lifting and vigorous exercise are prohibited during this period. Daily activities may also be limited.
Pain medication is prescribed to ease recovery. It is recommended to sleep on your stomach for the first couple of nights to avoid putting too much pressure on your incisions and treated area.
3 to 4 Weeks
Patients are free to increase their activity levels but will still need to refrain from strenuous activity and exercise that could cause setbacks in the recovery journey. During this time, patients can wear a loose-fitting, breathable bra for support as they ease into light activities.
Post-operative swelling and bruising should have significantly reduced. The incisions should also be fully healed by now. As long as your surgeon feels that recovery is going as expected, you can expect most post-operative restrictions to be lifted.
5 to 6 Weeks
Full recovery is expected to be achieved within six weeks. Patients begin to get back in the swing of things with slimmer and tighter body contours. You will look and feel fabulous by now and can expect to notice additional improvements over the coming months.
To maintain the results, patients are advised to keep up a healthy lifestyle that includes a proper diet, exercise, and good overall care.
Interested in Learning More?
If you have any questions about bra fat roll removal recovery, feel free to get in touch with us at 909-291-4900 or fill our online form to schedule a consultation. Dr. Andreasen will provide you with detailed instructions on how to take care of yourself following your procedure for outstanding results.